Website Design? We've been designing and programming websites from the beginning… or at least sometime in the mid-90s. We've worked on nearly a thousand websites since then. By now, Groupiehead has a pretty good idea for what makes a good website tick… and it's probably more than you think.

Website Design
It's important to have a website that "closes the sale" when your potential customers arrive.  Using multiple strategies, Groupiehead can make sure your website does just that!
Our job is not done when we finish building your website. We're only getting warmed up! In fact, the website is just the "soundcheck" before the real show. We're here to support our work and help bring more customers and clients to your website. We partner with our clients for the long-game, making sure the website is showing on the first page of Google. We make sure it grows and evolves with new technologies, and most importantly, generates new traffic every day!
Website Design & Development Services
At Groupiehead, we're not just programmers and computer geeks. We're also designers with award winning art backgrounds… and we've got 20+ years of experience in the marketing industry.  We'll make sure your website looks amazing, works well, and more! Below you find just a handful of things we consider when developing a website:
Website Design: The Groupiehead Approach
At Groupiehead, we believe a successful website should be developed with three concepts in mind: Design, Technology, and Content.
Design: The site has to look fantastic, be up-to-date with current trends, and be representative of the business. It should stand out among the competition and draw the viewers in.
Technology: The site needs to be programmed to meet its goals using code that works across all browsers and devices.  It needs to be programmed to coordinate with paid advertising campaigns and include thorough search engine optimization (SEO) strategies.
Content: The site's content should be fast to download and easy to navigate… and it should present the appropriate information to meet the goals for the website, whether that's sell services or products, or present information in a clean, "easy to find what you're looking for" environment.
At Groupiehead, we're experienced in all three areas mentioned above, to help ensure your website is successful on all levels.  With every website we develop, we put together a game plan that gives appropriate weight to design, technology, and content. Then we consider time involved and find the best possible solutions to fit your budget.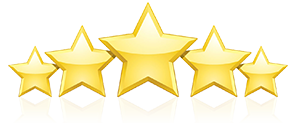 "I highly recommend Groupiehead due to the personalized attention, the quality of the work and the value they provide. My website has been on page 1 of Google since the second month the site was live over a year ago. I have always received an immediate response with effective solutions to my questions and issues. As good as the service is the website design is world class."
"I highly recommend Mark at Groupiehead! Mark created our website and has worked as a partner for the past few years in making sure that we are always running properly. He is very willing to answer all my annoying questions and everyone knows how tough it is to find a web guy that will do that! Give Groupiehead a try you will NOT be disappointed!"
"I have been using Mark at Groupiehead for 5 years, he did my website and I could not be happier. Because of his work I truly believe my business has grown and he deserves a lot of credit for it, also he is always a pleasure to work with when you have a problem. I was very skeptical of getting a website in the beginning because everyone In the business always seem to think I should know what they are talking about. He is outstanding, never makes me feel uncomfortable. Thanks Mark, all I can say if your looking for a business that really cares look no further. Groupiehead fabulous!"
"I'm getting sick of people calling and telling me the website looks great"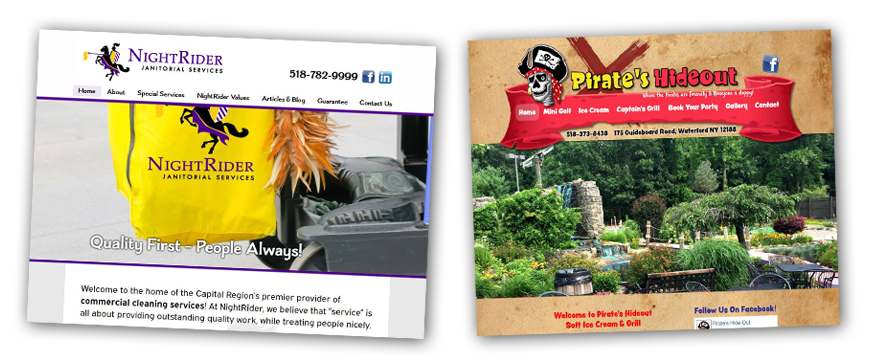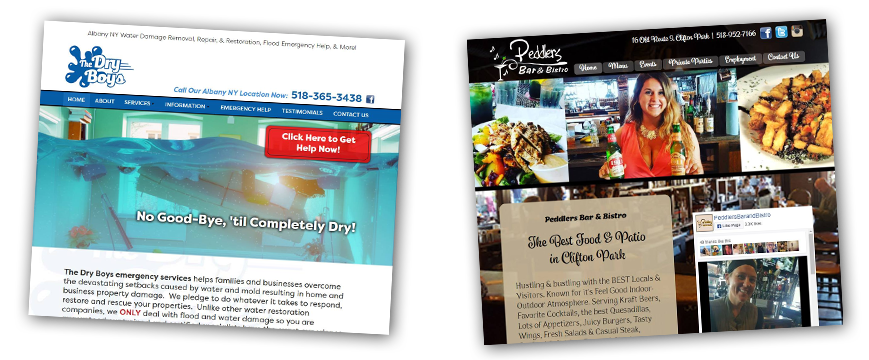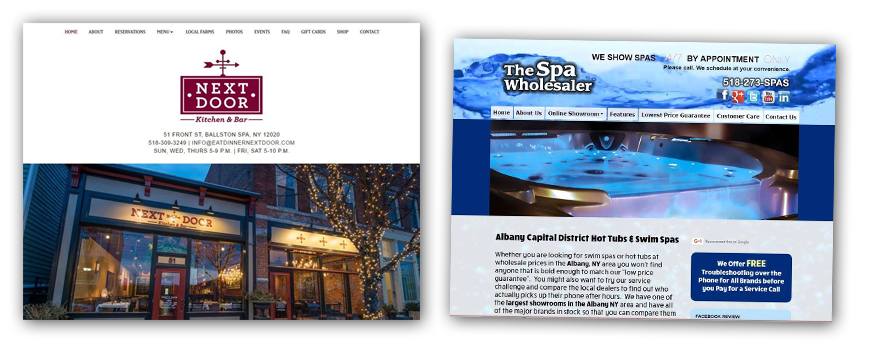 The Bottom Line… Why Hire Groupiehead for your Website Design & Development?
1) We've been designing and programming websites since they've been around. That kind of experience is invaluable!
2) We truly care about the success of our clients. We understand business expenses can make things tough. Our pricing is fair and honest to ensure our clients see a return on their investment.
3) Our experience goes far beyond WordPress. We won't cram your business into a template that was designed for someone else.
4) When working with Groupiehead, you'll have our cell phone numbers so you can reach us anytime. It's important to us that we see your businesses succeed, so Groupiehead will be there when you need us.  No offices or answering services… no need to wait for Monday-Friday business hours to contact us… just call our cell phones any time you need us!
5) Groupiehead doesn't stop when a website is complete. We're always available for maintenance and updates and we're always excited to help our clients grow their business with various targeted marketing and advertising plans.
6) You don't have to take our words for it… you can read our Google Reviews.
Pricing & Package Plans
Below are several website design and development packages that we offer.  Not all projects fit well into our standard package plans, and if that's the case for your situation, we're very happy to adjust to fit your needs.  Let us know what you're looking for and we'll be happy to come up with a custom plan just for you.
Each plan ensures that your project will be brainstormed by the Groupiehead team and you'll have the direct cell phone number of your lead designer so that we can be easily reached any time during the design process.
Garage Band Package
Basic Website: Brochure-type website to make information available to customers and the public
Pages: 1-5
WordPress
Content Supplied by Client
Basic SEO (Search Engine Optimization)
Sample Optional Features: Header Slideshow, Image Gallery, Facebook Widget, Map
Great For: Small businesses & Start-ups
Local Band Package
Small Website: Small website with several bonus features to make the website stand out among competitors
Pages: 5-10
WordPress
Content Supplied by Client
Focused SEO (Search Engine Optimization)
Sample Optional Features: CMS Admin to Edit Website, Header Slideshows, Media Gallery, Various Social Media Widgets, Plug-ins, Blog Options, Map
Great For: Small business with some need for online visibility and marketing
Regional Tour Package
Medium Website: Medium website with bonus features and multiple pages for extensive content. Designed to show well in search engines and coordinate with marketing channels, social media and Google Ads
Pages: 10-24
WordPress
Content Development as Needed
Extensive SEO (Search Engine Optimization) with Specifically Designed Landing Pages
Sample Optional Features: CMS Admin to Edit Website, Multiple Slideshows, Extensive Media Gallery, Various Social Media Widgets, Plug-ins, Blog and/or News Pages, Map, and More
Great For: Small-medium business with a large amount of content and/or strong need to bring in new customers and sales
National Tour Package
$
3950
Depends on Specific Features
Large Website: Large website with extensive/custom design and functionality. Designed to show well in search engines and coordinate with marketing channels, social media and Google Ads
Pages: 24+
Custom Design or WordPress
Content Development as Needed
Maximum SEO (Search Engine Optimization)
All Options from Other Plans and More!
Great For: Medium-large business with need for custom solutions and marketing campaigns
National Tour Package
6000
Depends on Specific Features
Custom Website: Large website with extensive/custom design and functionality. Designed to show well in search engines and coordinate with marketing channels, social media and Google Ads
Pages: 24+
Custom Design or WordPress
Content Development as Needed
Maximum SEO (Search Engine Optimization) with Various Custom Designed Landing Pages
All Options from Other Plans and More!
Great For: Medium-large business with need for custom solutions and marketing campaigns