At the time we programmed this website, Google claimed they were performing over 40,000 searches every second!
Wouldn't you like your business to be in front of some of those people? 
Google Ads and other targeted online advertising is a great way to quickly increase business and bring in new customers.
There's no other advertising like it! Traditional advertising is expensive and  you can only hope that someone who needs your product or service will see your ad.  With Google Ads, your message is only displayed to people who are looking for your product or service.  And the best part is that you only pay for the ad when someone clicks to view your website or clicks to call you! This is called "pay-per-click" advertising!
It's important to have a trained expert help you with your campaign or it's likely you be missing a lot of tactics that make sure your ads are being seen by the correct people.  Groupiehead is Google Certified so you can be sure you'll have the best possible team working for you.
Google Ads & Other Paid Advertising Services
There are many options when it comes to paid online advertising. Not every plan will work for every business.  At Groupiehead, we'll develop an advertising plan that best helps you reach your target market
PPC & Online Advertising FAQs
Q: What kind of results should I expect?
A: From day one, you'll see the additional traffic your website has received, but the more your ads run, the more data we have to improve your advertising campaign. Each month you run your campaign, you'll notice improvements.
Q: How do you track success?
A: Different industries will allow for different types of conversion (success) tracking.  We can track for a variety of different factors, from phone calls to website clicks. Depending on your business industry and website, we might even be able to tell you exactly how much money your advertising is earning you!
Q: How much additional website traffic and new business should I expect?
A: The answer to this question is different for every business. It's partially dependent on your advertising budget and how well your campaign is set up.  Groupiehead will be happy to sit down and review your specific situation with you.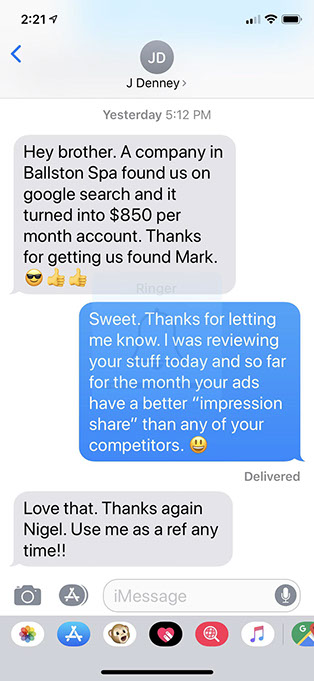 The Bottom Line… Why Hire Groupiehead for your Google Ads and PPC Advertising?
1) Unlike other advertising firms, Groupiehead doesn't upcharge paid advertising or "clicks".  Clients only pay Groupiehead for the time spent working on their account.
2) For many Google Ads and advertising accounts, Groupiehead pays for the advertising from our budget so clients don't have to worry about multiple bills.
3) Our Google Ads clients have complete access to their account and can edit their own account any time. FULL TRANSPARENCY
4) Groupiehead has no minimum time commitments and clients are welcome to stop anytime without penalty.
5) Groupiehead does not "repackage" or edit Google Ads data and statistics.  Clients see their exact data direct from Google.
Pricing & Package Plans
Below are several PPC, Google Ads and Paid Advertising plans that we offer.  We're happy to design custom Google Ads and paid advertising PPC plans specific to client needs.
Starter Plan
Managed Campaign
Perfect for Small Business
No Long Term Contracts
Marketing Plan
Managed Campaigns
Conversion Tracking
Perfect for all Business Sizes
No Long Term Contracts
Master Plan
Managed Campaigns
Conversion Tracking
Includes Google Analytics & Search Console Optimization
Reaching Multiple Target Markets
No Long Term Contracts