Do you want new customers & clients to find your website?
We can help with SEO (Search Engine Optimization). It's important for any business to find new customers, and to do that on the Internet, you're website needs to show up in search engines when people are looking.
We were optimizing websites for search engines before Google was around!
Want your website listed on page 1? We understand what it takes to do just that.
​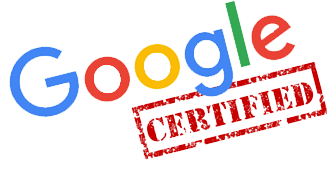 Groupiehead is officially Google Certified in Google Search so you can trust that we understand what we're talking about, and we can do what we say we can do.
Sometimes showing up on page 1 is not good enough. If you want your website to be the first listing someone sees when searching Google, then you need to invest in advertising.  Paid ads on Google can guarantee that your website's listing will be seen above all others.  To make sure you're getting a return on your investment, it's important to coordinate your website's SEO with your pay-per-click (PPC) advertising. Give Groupiehead a call at 518-369-8510 to learn why.
Search Engine Optimization (SEO) Services
Sometimes, all it takes for a website to succeed in search engines is just a trained and thorough programmer. But depending on your competition, it might take a lot more than that! At Groupiehead, our search engine optimization services don't end with updating a website. We also provide other services that work in conjunction with a website's SEO to help a site get to the top of page 1.
The Best Search Engine Optimization
Why is Groupiehead the best at Search Engine Optimization?
These days, most website designers are limited to building websites in WordPress or other similar programs.  Well good thing for you, Groupiehead has been programming websites since long before those programs were around. In fact, Groupiehead has been search engine optimizing websites long before Google was online.
The problem with some template websites is that the template doesn't allow access to the code in many of the places where you would want your search engine keywords.  At Groupiehead, we can edit your website so your search engine keywords can be everywhere they need to be.
Don't Get Scammed!

Be cautious of other website design firms that offer SEO services on a monthly basis.  We've seen some of these proposals and they are full of unnecessary work that the customer is scared into thinking they need, forcing them to keep up monthly SEO payments in order to stay at the top of search engines.  THIS IS NOT NECESSARY! If a website has been correctly optimized, there are no further adjustments that can be made to the site, and no need for on-going, monthly fees.

* See our notes below on new content. *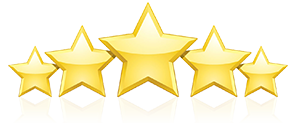 "Groupiehead did an outstanding job on our website both from a visual standpoint and in the SEO work that organically gets us on the 1st page when our key words / phrases are searched.  I highly recommend their services."
"Groupiehead is great! Mark is talented, creative, responsive, professional and thorough. He is an SEO guru! My business has grown exponentially because of Mark's expertise. I can also depend on him for honest advice, which is so important as a sole proprietor."
"I highly recommend Groupiehead due to the personalized attention, the quality of the work and the value they provide. My website has been on page 1 of Google since the second month the site was live over a year ago. I have always received an immediate response with effective solutions to my questions and issues. As good as the service is the website design is world class."
After A Website Has Been Fully Optimized, What Can Be Done On A Monthly Basis To Improve Search Engine Position/Rank?
1) New Content
Contrary to popular belief, a blog will not help a website in search engines.  What will help a website is actual content.  While a blog will provide content, the "blog" is not the important part.  The important thing is to add new content to the site, written with search engine keyword phrases in mind. Groupiehead's team can help provide new content, with specific search engine keyword phrases in mind.
2) External Links
One of the most important things for good SEO is outside websites linking back to a site.  These are often called, "backlinks".  Groupiehead has a large network of websites that can be used for back links.
3) Social Media & More
Another technique that can help improve a website's SEO is regular work on social media that includes linking to target website pages. Social media pages can play a large role in good SEO as well as other websites, such as Google's Webmaster Tools & Search Console, and Bing's Webmaster Tools. Groupiehead's monthly social media services can be a great way to help improve search engine position/rank.
The Bottom Line… Why Hire Groupiehead for your Search Engine Optimization (SEO)?
1) We've been helping clients show up well in search engines since the days of Excite, Webcrawler, and Lycos… years before Google came on the scene!  That kind of experience is invaluable!
2) We won't trick you into paying for services you don't need. Before we start SEO work, we point out specific changes that need to be made so our clients can feel confident in the work that we do.
3) We're not just website designers. At Groupiehead, we have writing experience and education; we're fully qualified to help clients with new website content to help improve search engine rank/position.
Pricing & Package Plans
Below are several search engine optimization (SEO) package plans offered by Groupiehead. We have a one-time option to optimize a pre-existing website. Our other plans include monthly work creating new content and working with social media and other outside websites.  Please feel free to contact us with any questions or to customize a plan just for you.
Review & Search Engine Optimization (SEO)
Maximum Search Engine Optimization
Client Consultation
Great For: Clients that need their website optimized for regional competition
SEO Maintenance
Maximum Search Engine Optimization
Website Content Addition/Expansion
Monthly Client Review
Creation of Landing Pages (As Needed)
Great For: Clients that have difficultly placing on page 1 and/or have medium to high regional competition.
SEO Maintenance & Improvement
Maximum Search Engine Optimization
Website Content Addition/Expansion
Monthly Client Review
Creation of Landing Pages (As Needed)
Set up (As Needed): Google Search Console, Bing Webmaster Tools, Google Analytics, Google My Business
Weekly Social Media Posts with Keyword Targeting
Social Media & Directory Website Submission / Link Building
Great For: Clients with Highly Competitive Keyword Phrases
All of our plans above can be customized to specific client needs.  It's very possible that after several months of work, clients may no longer need monthly services. The above plans can be applied to a bi-monthly or quarterly service.
To get started, simply give us a call or visit our Contact page and send us a message.